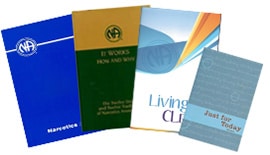 The Hospitals & Institutions Subcommittee has extended its Book Drive through January 2018. The subcommittee is collecting NA literature to donate to those facilities at which H&I carries the message of recovery. New and used books, with the exception of the Step Working Guides, are accepted.
You may give your donations to any H&I member or bring them to the subcommittee's meeting at 12 noon on Saturday, January 13, 2018 at First Church of God, 2202 E. Busch Blvd., Tampa, FL 33612.
Please help H&I continue to carry the message to people whose attendance at regular NA meetings is restricted.